Testimonials
Here are some comments students have shared with us about their class experience with Tom as instructor. The testimonials are word-for-word comments we were given permission to publish. We hope what you read encourages you to join us for an Epic Woodworking experience some time — in the shop, or online.
"The instructor is probably one of the most experienced and knowledgeable instructors in the country for this field of study. Finding this type of class in a small NH town is exceptional. I was grateful to be informed about specific methods and materials that until that class had only read about in trade journals."  Don D.
"There are too many things about the class that I enjoyed. The project was challenging and it enabled me to develop new woodworking skills. Tom is a terrific teacher demonstrating techniques at each and every step of the project. It was truly and enjoyable class and one that I would recommend to others"  Rob G.
"Last week was undeniably one of the best vacations I have ever had! I came to Epic Woodworking to learn some skills and make a project. I left with many more skills and knowledge than I had hoped for, an excellent project that I am proud of, and I made several new friendships at the same time."  Eric W.
"Live streaming worked great. Being able to go back and watch the class on demand is priceless. I know as my son and I make our way through the project we'll be watching them many times. Watching the video is great, but the class enables interactivity with Tom, being able to ask a question and get real time answers is so beneficial."  Nick T.
"I enjoyed the experience as a complete change of focus for a week. I thought the teaching was excellent, The instructor was able to work with a rank beginner to an experienced woodworker, making both feel good about their efforts and results. My expectations were exceeded."  Dave R.
"I came wanting to learn how to carve a ball and claw foot in the Newport style and left with a pretty decent one that I think I can duplicate. I came away with an appreciation of how to use chisels that will transcend carving and affect everything I do with hand tools."  Stephen G.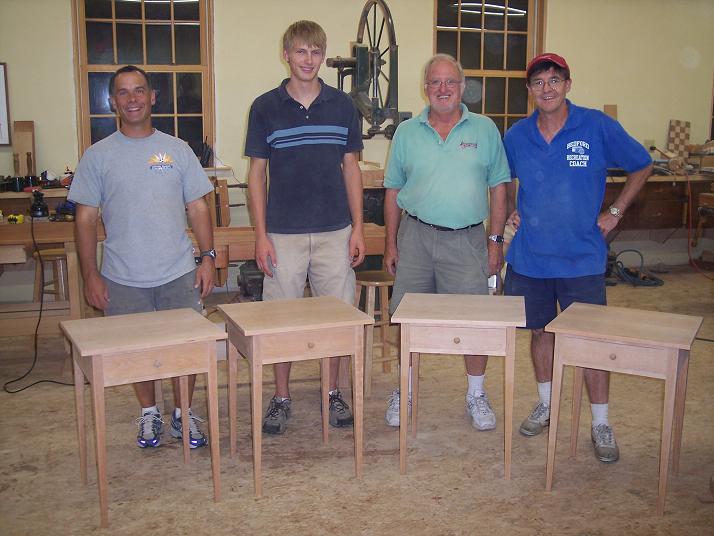 "I can't express how much I enjoyed this workshop. I knew that I would be learning a particular skill, from a well-respected craftsman . However, the opportunity of spending three complete days, immersed in woodworking culture, trying out all types of chisels, saws and cutting tools, from the least expensive to the most expensive, was an experience I will not soon forget.  If there is any analogy, it was like signing up to play a round of golf at St. Andrews Golf Course (which in itself would be an extraordinary experience!) but then to your astonishment, getting paired with Tiger Woods for three days, who offers you constructive remarks at every opportunity!."  Frank M.
"This was one of the best creative times I've ever had! The time passed very quickly, which for me is an indication of being incredibly focused. I appreciate woodworking more after having done a part of the table the way it was done 100 years ago." Mickie F.
"I liked how the teaching area was setup; neat, safe, sound equipment, necessary items at hand. When you came into the shop it was quite clear where I was going to be working and where things were." Andrea Y.
"I came thinking that veneer was magic and left with the feeling that I could do this. I got enough of the detail and could ask questions at any level and get a good answer."  George S.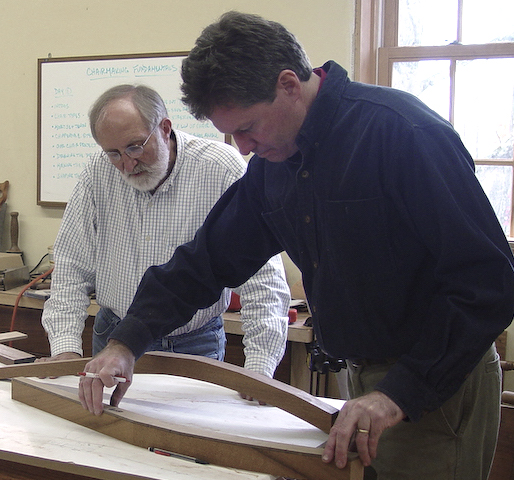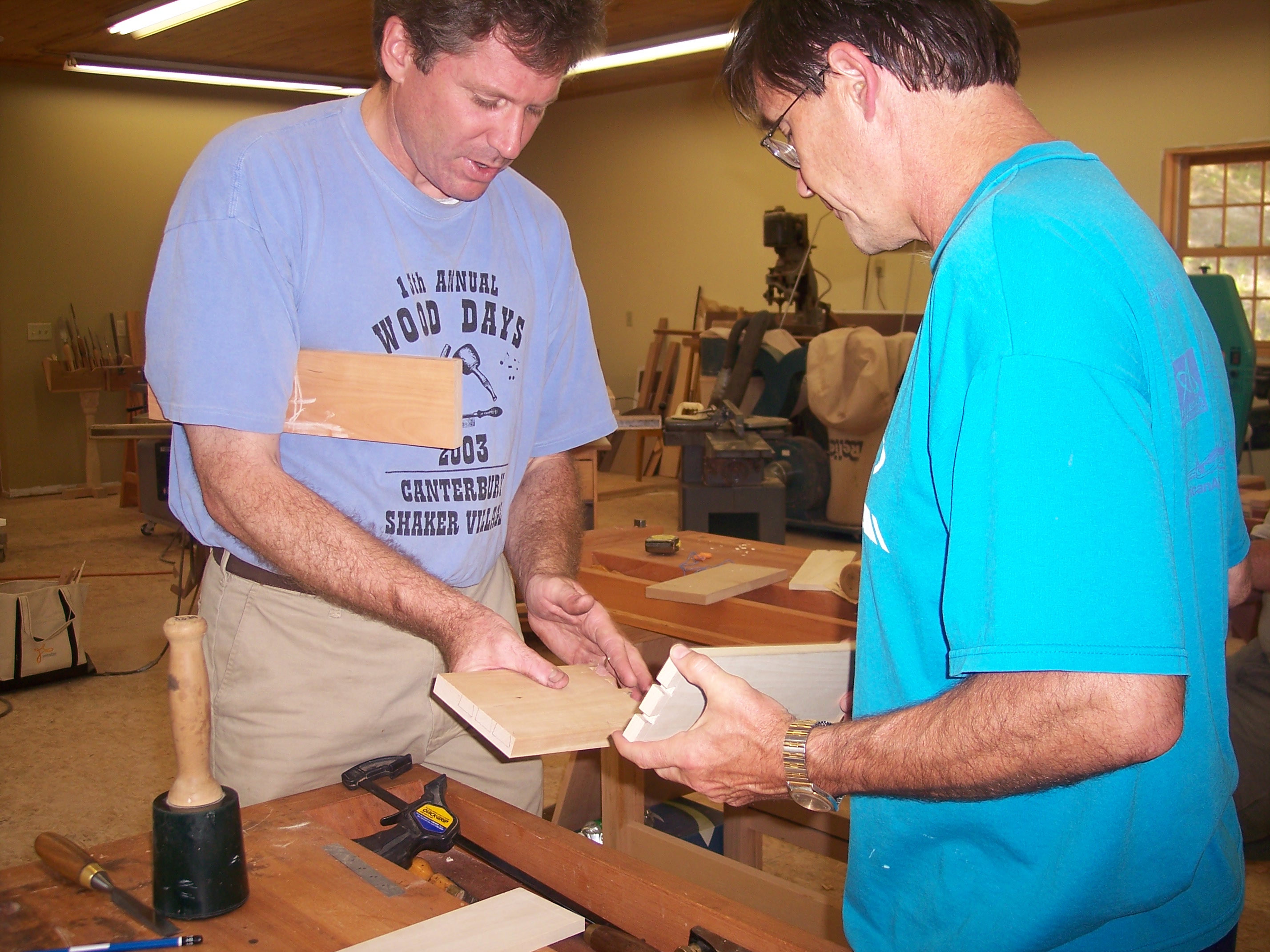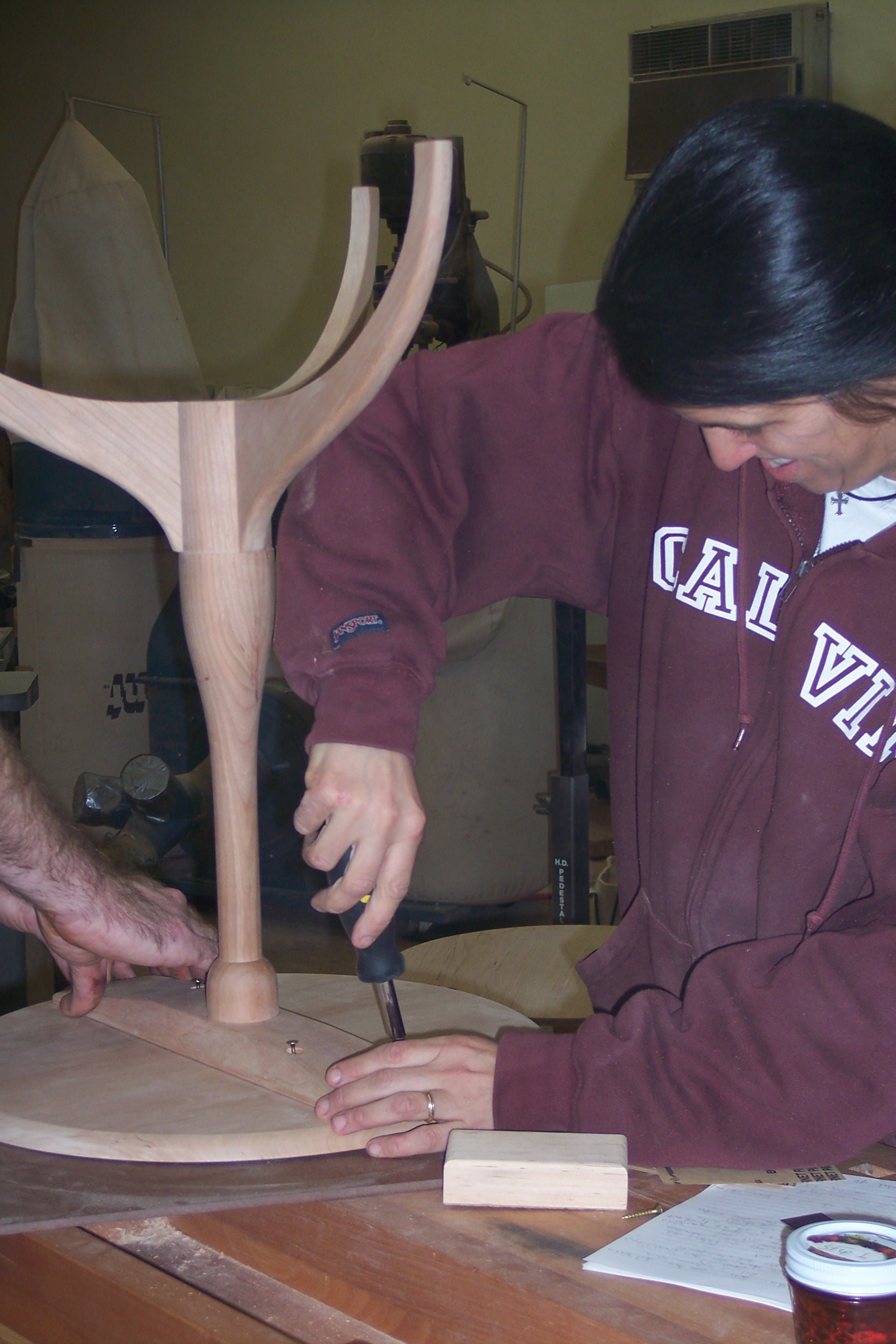 "The class was terrific. I am a complete novice, so I learned so much. I think we learned the most by going ahead and jumping in, and somehow you were right there at the critical moment to prevent disaster. I liked everything about the experience – learning about the tools, the wood, furniture design. The pace was good, not too much pressure to get the next step completed quickly. Good balance of hand tools versus  power tools." Cindy S.
"Tom broke the project into smaller pieces that went together, resulting in a great project — functional and pleasing to the eye."  Bill K.
"Thank you very much for the demonstration. You have a great location. Your gifts in furniture making and teaching were a pleasure to experience. I was particularly interested in the time that was devoted to the design considerations – so often the emphasis is only on technique. Thank you for that time and your efforts." Stuart B.
"I came in knowing nothing about how furniture was made, what the tools were, how you used them. When I left, I felt I had gained some understanding of the process, and learned that with practice, I could do it – and I have applied what I learned to other projects since then."  Nancy S.
"Our instructor was the total package – he is  knowledgable, a communicator, has flexible, fun personality and a gentle way that puts even the most intimidated at ease. It was everything I expected and more: I learned different techniques to better replace the ones I'd been using with some success."  Doug M.
"The class was a pleasant surprise. I was actually able to make something! I am a novice. I very much wanted to learn from an expert. I gained a great deal  of confidence."  Donald H.
Join our Mailing List
Be among the first to know about newly free video content, classes, events, etc. Receive Tom's Top 10 Hand Tools List as a welcome gift from us when you join. We will not share your information with anyone.

A great gift idea for your favorite woodworker!
Not sure what to get your woodworking enthusiast? Look no further! Purchase an Epic Woodworking Gift Certificate and give them a woodworking experience they'll never forget. They may even choose a project that fits perfectly in your home! Click the Gift Certificate image below, choose the denomination that fits your budget, and print it up!  Click the certificate image below to purchase.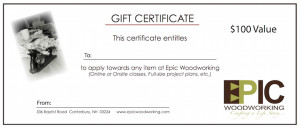 "The fact that the class was taught by a professional furniture maker… made the experience all the more authentic."
Victor W.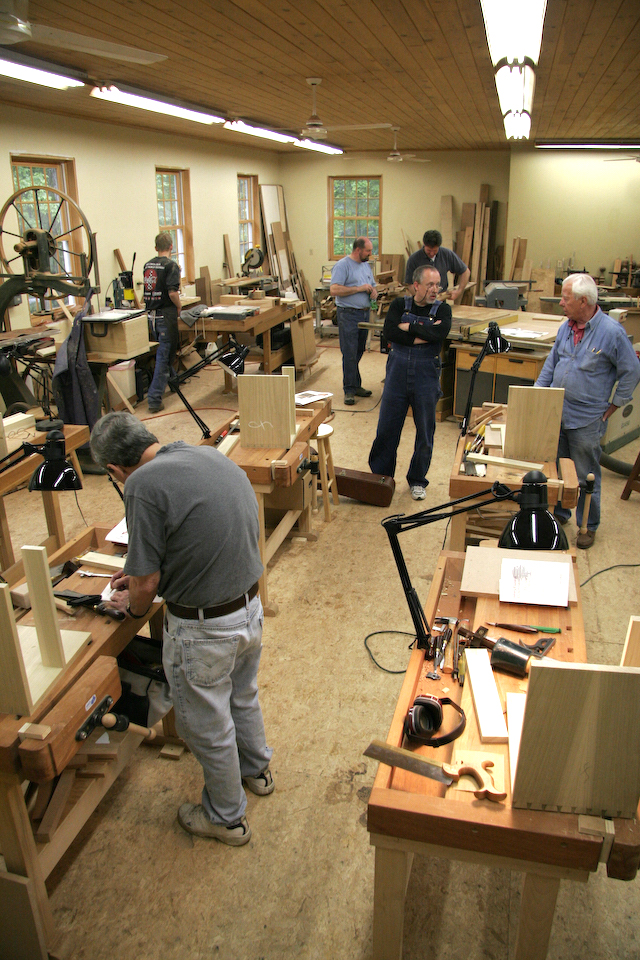 "Tom's presentation of the material, his knowledge and experience were the most important elements in making the class a great success. I learned a lot and really enjoyed it." Mike B.
"I was very impressed with your topic, preparation, humor, content in your demonstration. Unfortunately, it is rare to find someone with your talents who can also present so well. I suspect your presentation was the best type of "commercial" anyone could have made for your school. I personally was very impressed as you reached over to grab every single item that you needed during your presentation. Congratulations on a job well done." Jack G.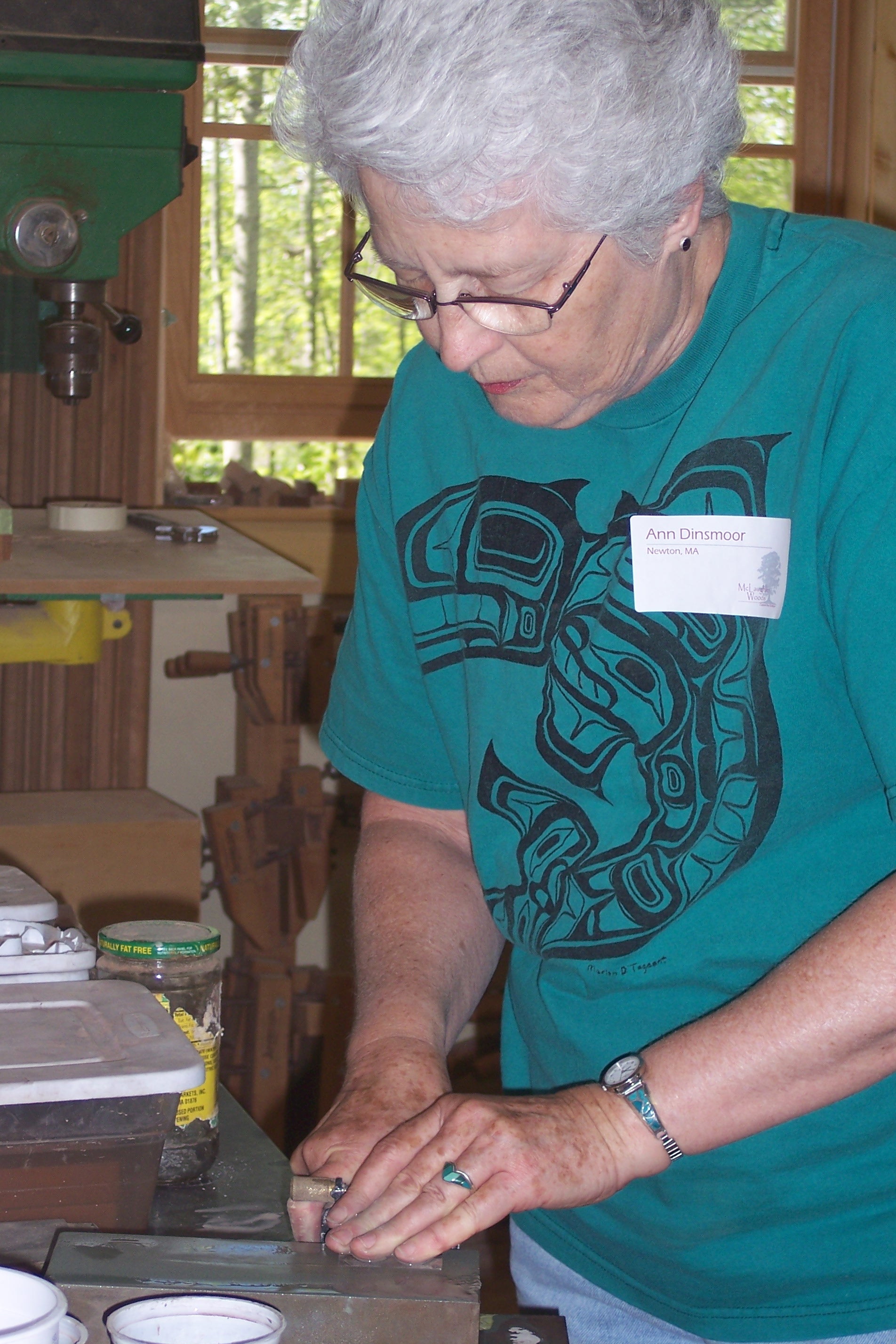 "Exciting, enjoyable, relaxing atmosphere, with help as needed. Being able to do hands-on work and take home a product of beauty was the best part of the experience for me."  Marjorie D.
"It was a wonderful experience. The course gave me quite a bit of confidence in working with wood and a great appreciation of what can be done with hand tools. What I liked most was the project itself, the small group of people with diverse pasts, but a common love of working with wood, your instruction and patience." Roger F.
"I really enjoyed your demonstration. One thing that set your demonstration apart from others that I have attended, is your willingness to describe your mistakes and concerns. So often, I notice that other instructors teach the class from a technical standpoint, without any sense (or even admission) of the human element. The net result is that you go home, try the technique, fail (of course), and decide that you must be a loser. The truth of course, is that the instructor has sanded through veneer, cut the fourth leg blank shorter, cut pins for both sides of the joint, et al."  Dave D.