About
I remember the moment I stepped into his shop like it was yesterday. Hundreds of furniture patterns lined the walls, classic machinery arranged all around, well worn hand tools laying beside artsy furniture parts on workbenches, and ahhh, the wonderful fragrance of antiquity. At the center of it all was the talented and gracious, then 73 yr old master craftsman Preston "Pug" Moore.
Read more
The story of Epic Woodworking began that day. My wife Kris and I had recently moved to North Carolina so I could apprentice as a woodworker. We weren't exactly how it was all going to work out, but the first time I stepped into Mr. Moore's cabinet shop, I knew I had indeed discovered what I was made to do.
What followed were three years of the most enjoyable days I would know in a workshop. Out of the passion of his big heart and 55 years of experience, Mr. Moore taught me to appreciate the wonder of traditional furniture design and construction, along with countless life lessons.
Now, over 25 years later, my love for the tradition continues, and I have been privileged to make many, many pieces for clients working off that foundation. Having a mentor like Pug Moore moved me forward so much further and faster than I could have gone alone — and sharing the experience together also meant more fun.
Over fifteen years ago I began to crave the experience of passing the craft along to others, taking my turn at offering something similar to my apprenticeship experience with Pug Moore. It's been in that spirit that we have hosted hundreds of students at our shop in Canterbury, NH. And we'd love to invite you in as well.
Through Epic Woodworking I open my shop doors to people who like me, simply love woodworking. Step in for a while — whether onsite or online — take your place at a workbench, and share some creative moments as together we craft our life stories.
It happens just hanging out in the shop, or when making a piece for friends and family, or in those moments where redeeming a mistake makes us have to go deeper. Wherever it leads, I hope we find ourselves making something more beautiful with our lives.
Thanks,
Tom
Bio
Tom has been making and designing commissioned custom furniture since 1990. After years of higher education in his twenties, he decided at 29 to pursue his love for fine furniture making full-time. His training launched forward when he e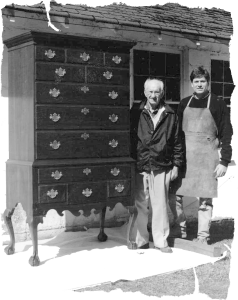 ntered a rare apprenticeship with master craftsman P.A. "Pug" Moore in Rocky Mount, North Carolina. Tom remained close to Pug, even after branching out on his own, which included returning to his native New England roots where he's been making furniture since 1997 .
Credentials include – Member and former Chairman of the New Hampshire Furniture Masters since 1998, featured in articles in numerous newspapers, magazines, and woodworking journals, including guest appearances on NH Chronicle, and Rough Cut with Tommy Mac, as well as offering instruction since 2001.
Visit the Portfolio page to view a selection of Tom's work.
Visit the In the Media page for more.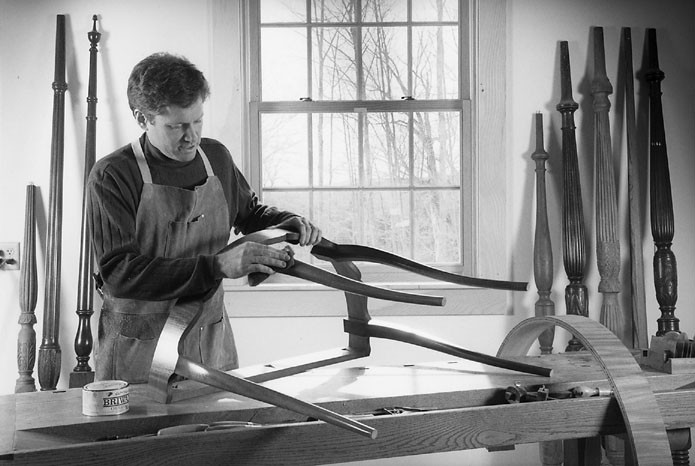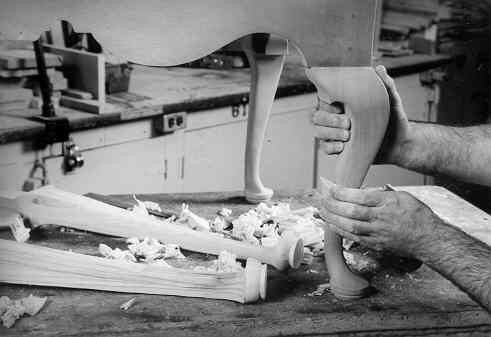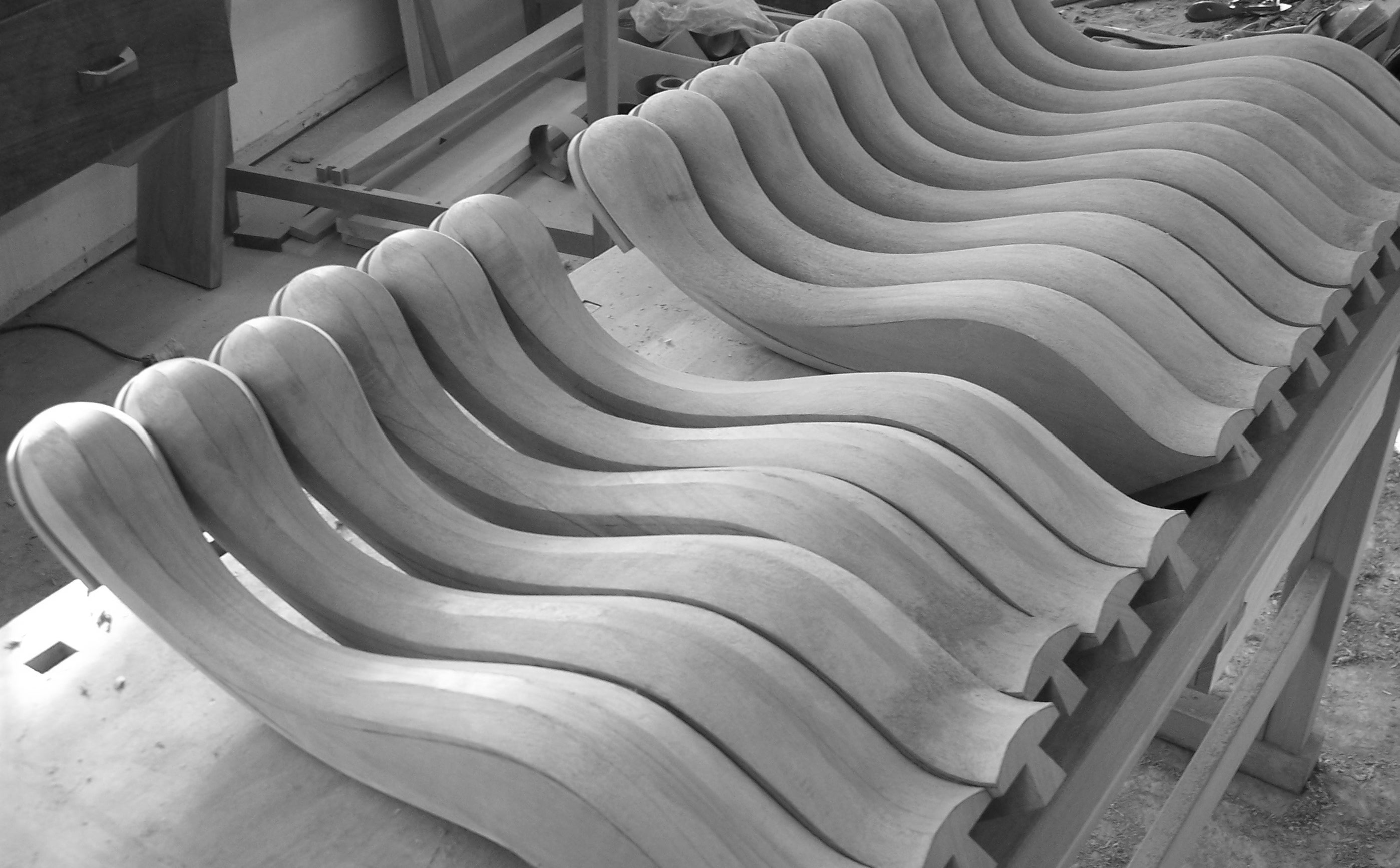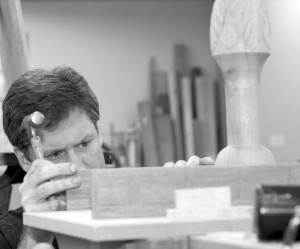 Tom is probably one of the most experienced and knowledgeable instructors in the country for this field of study. Finding this type of class in a small NH town is exceptional. I was grateful to be informed about specific methods and materials that until that class had only read about in trade journals.
Don D.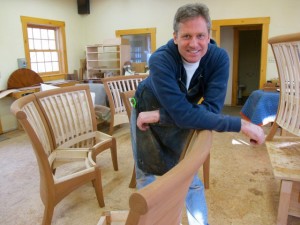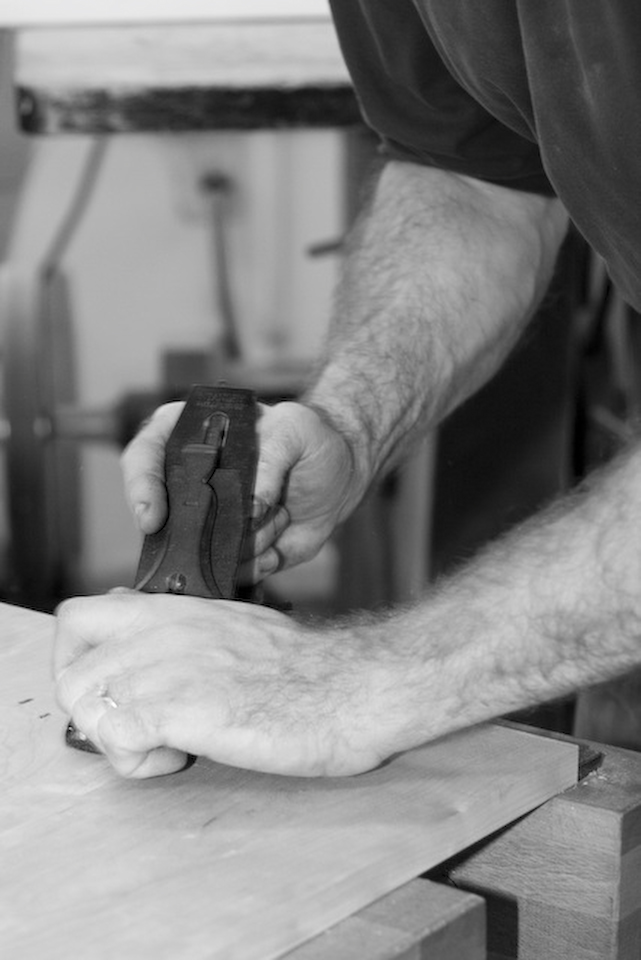 "Furnituremaking is a calling, a way of life. No one gets into it as a means toward getting rich. I can't believe I get to do this every day. I love being in the shop, breathing the spicy aromas of freshly sawn wood, absorbed in the process and filled with anticipation as raw materials are shaped into useful form."       ~ Tom McLaughlin, 2001